Hadise Açıkgöz born 21 October 1985 is a Turkish-Belgian singer. Hadise's career began in 2004 with the release of her debut single "Sweat", which peaked at 19 on the Flanders chart. Hadise continued to release more successful singles, most notably the single "Milk Chocolate Girl".Hadise's debut album, which was released in 2005 earned Hadise her first TMF award in Belgium and a "Altın Kelebek" Award (En. "Golden Butterfly" Award) in Turkey.
Hadise's follow up album Hadise, was released and promoted in both the artist's native country and Turkey. The album produced two successful singles, "A Good Kiss" and "My Body", this earned Hadise her second TMF Award in the "Best Urban Act" category. It was during this time that Hadise became the presenter of the Belgium version of The X Factor.
In 2009, Hadise represented Turkey at the Eurovision Song Contest with the song "Düm Tek Tek". The song gained a total of 177 points, which placed Turkey fourth in the final. "Düm Tek Tek" was the first single from Hadise's third album Fast Life, released in May 2009. Hadise's first Turkish studio album, Kahraman (En. Hero), was released in late June year 2009 in Turkey.
Contents
* 1 Musical career
o 1.1 Early life
o 1.2 Pop Idool
o 1.3 2005-2006: Sweat
o 1.4 2008: Hadise
o 1.5 Fast Life (2009)
o 1.6 Kahraman (2009)
o 1.7 New Album
* 2 Eurovision 2009
o 2.1 Selection
* 3 Television career
* 4 Musical influences
* 5 Other ventures
o 5.1 Products and endorsements
o 5.2 Philanthropy
* 6 Personal life
* 7 Discography
o 7.1 Albums
o 7.2 Live
o 7.3 EP
* 8 Filmography
* 9 Awards
* 10 See also
* 11 References
* 12 External links
Musical career
Early life
Hadise was born in the city of Mol, Located near the town Antwerp, in Belgium on 21 October 1985. Her father and her mother, emigrated to Belgium from Sivas, Turkey. Açıkgöz grew up with older sister, "Hulya", younger sister "Derya" and also a younger brother named "Murat", her name was chosen by one of her grandparents, having originally being intended for her older sister.
Pop Idool
See also: Idool 2009
Açıkgöz's passion for music began since her childhood. She grew up studying economics and modern languages, where she is fluent in five languages, Turkish, Dutch, French, German and EnglishAt the age of 17, Hadise entered for the show Pop Idool in 2003, the Flemish version of Pop Idol, which aired in 2003, although she didn't qualify for the finals, her appearance was acknowledged by her soon to be manager Johan Hendrickx, when she received a call from Hendrickx, who explained how impressed he was with her performance on the show and offered her an album contract
Hadise
Hadise
Hadise
Hadise
Hadise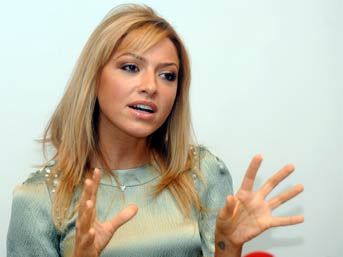 Hadise
Hadise
Hadise
Hadise
Hadise